| | | |
| --- | --- | --- |
| | | |
| | | |
| | | |
Local 1347 regrets to announce the passing of Retired Firefighter Peter Torilli.
Arrangements are as follows:
Visting Hours

April 27, 4pm-8pm
MacDonald Funeral Home
270 Main St, Watertown


Funeral Mass

April 28, 9am
St Luke's Parish
132 Lexington St, Belmont

Burial

May 1, 1pm
Bourne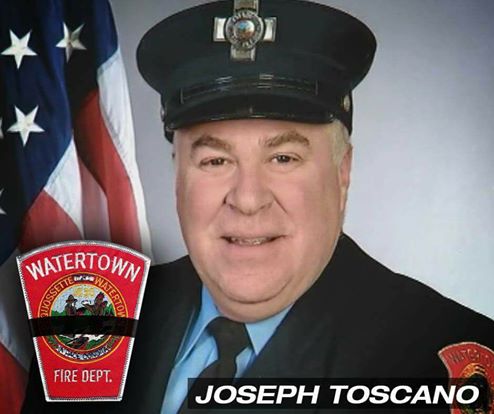 Local 1347 regrets to announce the Line of Duty Death of Firefighter Joseph Toscano. FF Toscano, a 21 year veteran of the department succumb to injuries sustained while fighting a fire on Friday,
March 17, 2017.
Please keep the family, firefighters and community in your prayers.
Donations can be made to the
Toscano Fund
c/o Watertown Firefighters Relief Association
99 Main St
Watertown, MA 02472
A meal schedule has been created using TakeThemAMeal.com, and we've been invited to participate!
Meals are needed for: Mario & Sandra Orangio
If you would like to sign up, you can access the meal schedule by clicking here, or by visiting TakeThemAMeal.com and locating the schedule by recipient last name (Orangio) and password (Yummy).
Notes about this meal schedule below.

Please join all of us on Team Mario to bring the Orangio Family dinner on a Wednesday night. We are hoping that this will give the Orangio family something to look forward to every week. If we all band together and each take one Wednesday, we can keep this going for a very long time!.

The Orangio family has six people to feed. There are no food allergies.

There are several drop off options for your meal:

5 Oscar's Way, Maynard- Orangio's home
or
20 Ledge Rock Road in Concord (**BEFORE 3:30PM**- Sandra's work)
or
Watertown Fire Department (please speak with Maddie to see if this is feasible on your week)

Please coordinate your drop off with Sandra at: 617.515.5398.

If you are dropping off at the Orangio house, please keep in mind that Mario will be undergoing an aggressive chemo regimen for the next couple months. Please coordinate with Sandra before your arrival as he might be feeling very much under the weather.

I will do my best to send reminder emails out to you in advance of your day, but please mark it in your calendar so you know when it is coming up.

Please call with any questions or ideas of how we can make this as efficient as possible.

Jodi Loughlin
617.851.9862
dakinloughlin@gmail.com

PS. For those of you who don't know Jodi, she works with Sandra (The Chief's wife)